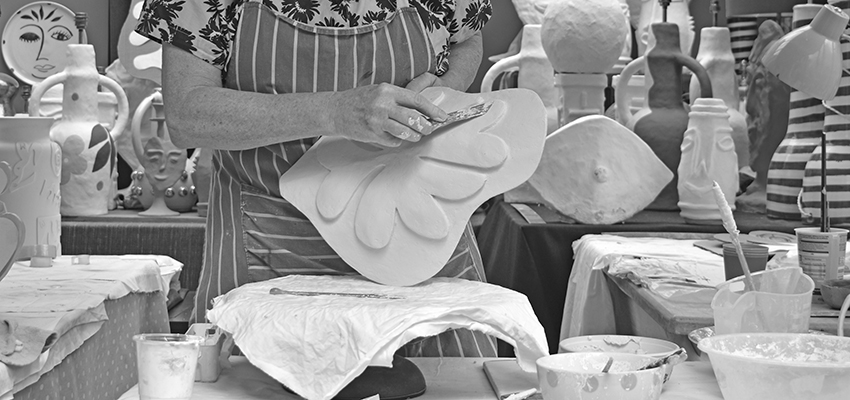 Sustainability is very important to us
Sourcing locally allows clients to create an interior celebrating and investing in local craftsmanship, it supports local communities and businesses, reduces design miles and invests in collectable craft and handmade artwork.

We design and make our pieces with sustainability in mind
Actively keeping production local and sourcing for materials within the UK, cuts down on the design miles and carbon footprint of our products, adding to the distinctive production of our range. Our products are all made locally in and around London, even our light fittings are made by a family run business in the midlands.

Our house lampshades are made just around the corner from where we are based in London by a local craftsperson.

The pieces in the sculptural collections are made of jesmonite, which is an eco-friendly safe alternative to resin, plaster, or concrete; invented in the UK and is still produced by a British company, based in Shropshire, using ingredients sourced through local supply chains. Prior to casting, the original designs are made with clay plaster, made from natural materials and easily compostable.

The paint used for these pieces is made by an eco-friendly, family run business, based in the UK. Both the jesmonite and the paints we use are water based, providing a more sustainable alternative to oil-based materials.

For the ceramics, we use ball clay from Devon which is an abundant natural material quarried locally to the supplier's plant, further decreasing production miles. While the pottery uses renewable energy to heat and work the kiln.

The bespoke nature of our products enhances their sustainability through reducing waste in production or adaptation of products
As the pieces are not mass produced, but made to order, any bespoke alterations do not add unnecessary stages or waste through production.

The sculptural range can be finished in different colours or patterns. While the ceramic pieces can be made to different dimensions and shapes, and with a range of house glazes that can used or modified as requested. We are happy to design and make bespoke designs. All of this is possible because everything is handcrafted in London.

As pieces are made to order by expert craftspeople, any modifications of our products do not incur any waste.