Cote d'Azur Collection of tables lamps and wall plates
We started this collection with the Hilaire table lamp, he is an extremely popular character who was inspired by those famous artists painting in the south of France in the mid-century. I designed Soho adding some smart seaside stripes to the collection and then drew up a fun compilation of blue and white characterful wall plates, which now come in three sizes. Our trusted friend Hilaire now has a very popular lady friend called Lady Hilaire, a real blue belle and proving to be a crowd pleaser. We have been very busy and in the not too distant future there will be another friend joining the party.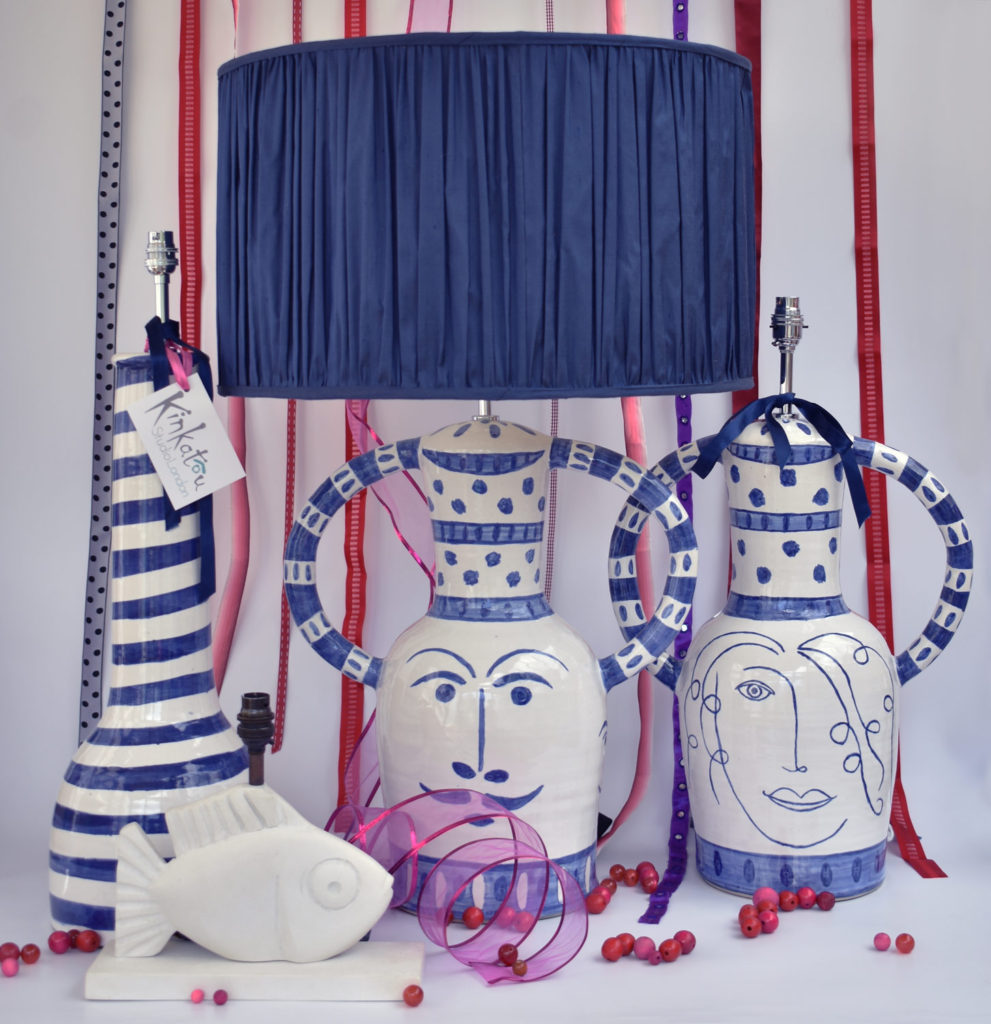 Blue and white is the classic combination that will never go out of style, it is an easy, bright, felicitous, sunny and joyful look, but at the same time calm and appeasing. If you are mad about blue, contemporary ceramics, hand crafted pieces and modern art, then this is the collection for you. Like all our pieces, everything is handmade in Britain and you can have variations on a theme, if you would like to have a piece made in a different size or change the design concept for a particular project we are very happy to fulfil the design spec if we can.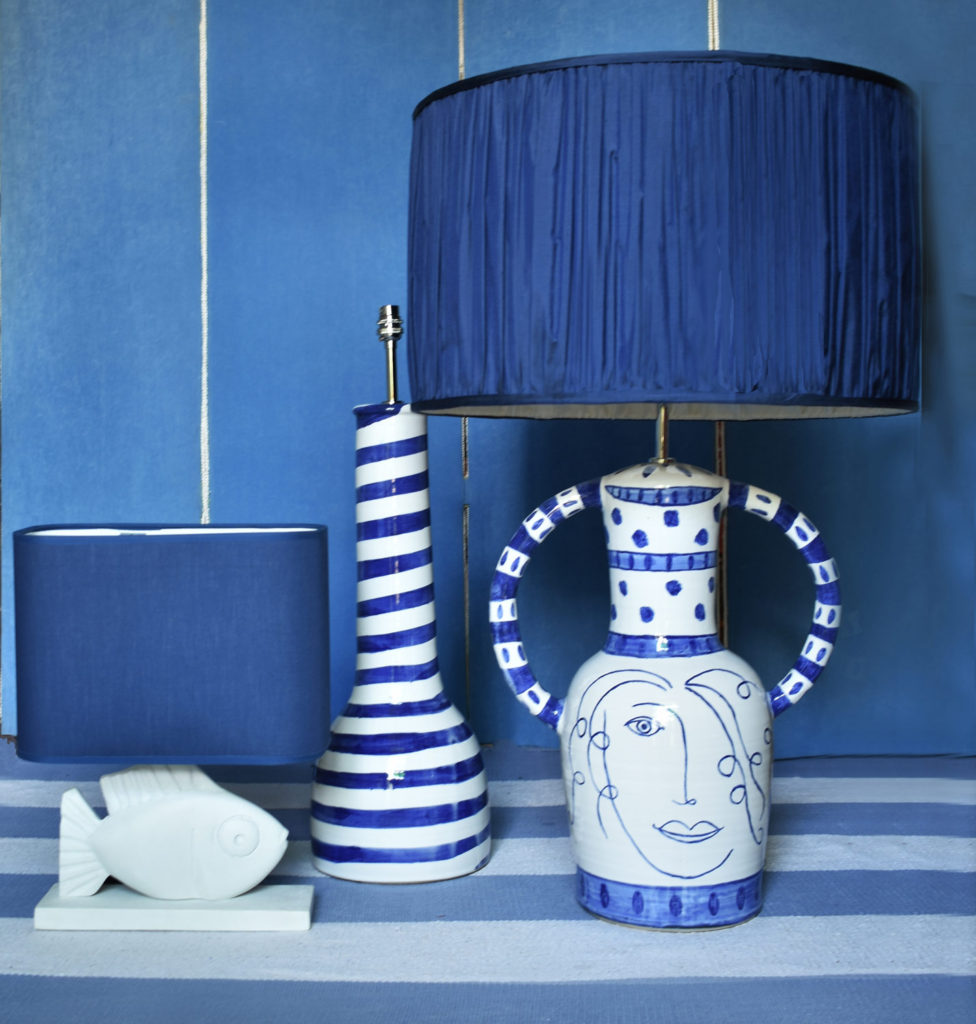 Sing the blues, inject some blue and white in to your life, decorate an interior with the cutting edge of contemporary craft, elements of fun, inky hues and cobalt blues. This collection has that real summer time vibe, creating a real sea breeze scheme.
All the pieces are hand thrown on the wheel, bisque fired, hand painted, glazed and fired again at stoneware temperature . Each and every piece will be very slightly different, making each one unique. We have experimented with the glazes, the intensity, thickness and colour and think we have now achieved a lovely crisp finish with a white clay and thick cobalt blue decoration.
HILAIRE TABLE LAMP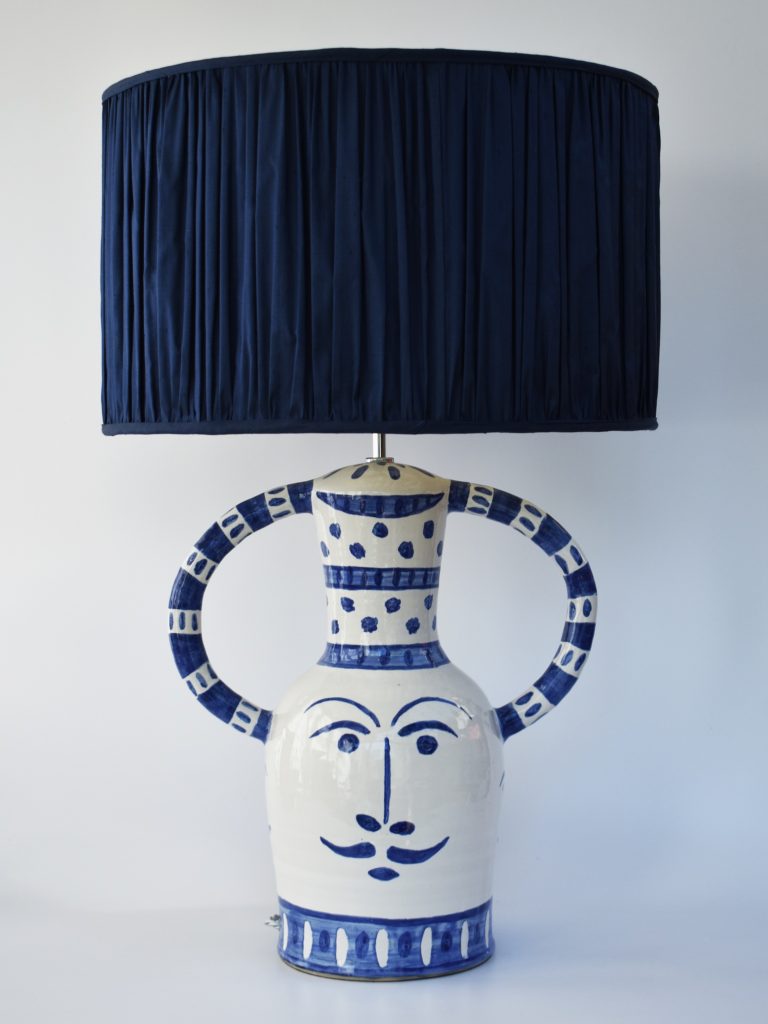 One of our original and ever popular lamps, the much admired Hilaire lamp is individually hand thrown and glazed so that each piece is a functional art work with its own unique character and what a charmer and bobby dazzler he is. Inspired by a mid – century Mediterranean vibe, Hilaire resounds with a spontaneity to enrich a multitude of interior settings
SOHO  TABLE LAMP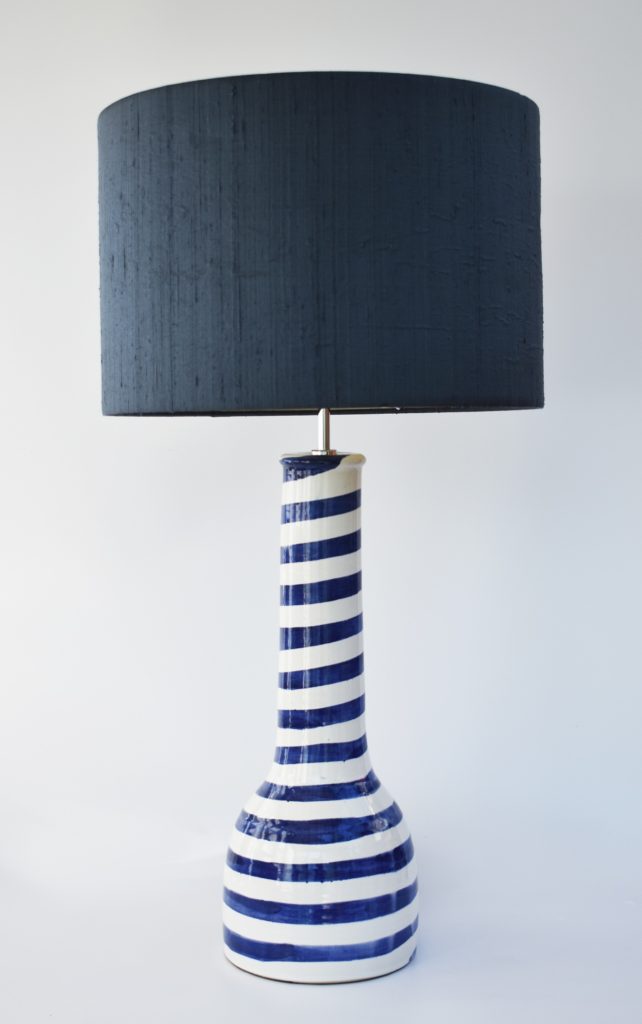 Ever elegant and timeless in design, this fresh, bright, striking, blue and white individually hand crafted and hand painted ceramic table lamp will pass the test of time and create a strong contemporary element to a wide variety of bespoke interiors.
LADY HILAIRE TABLE LAMP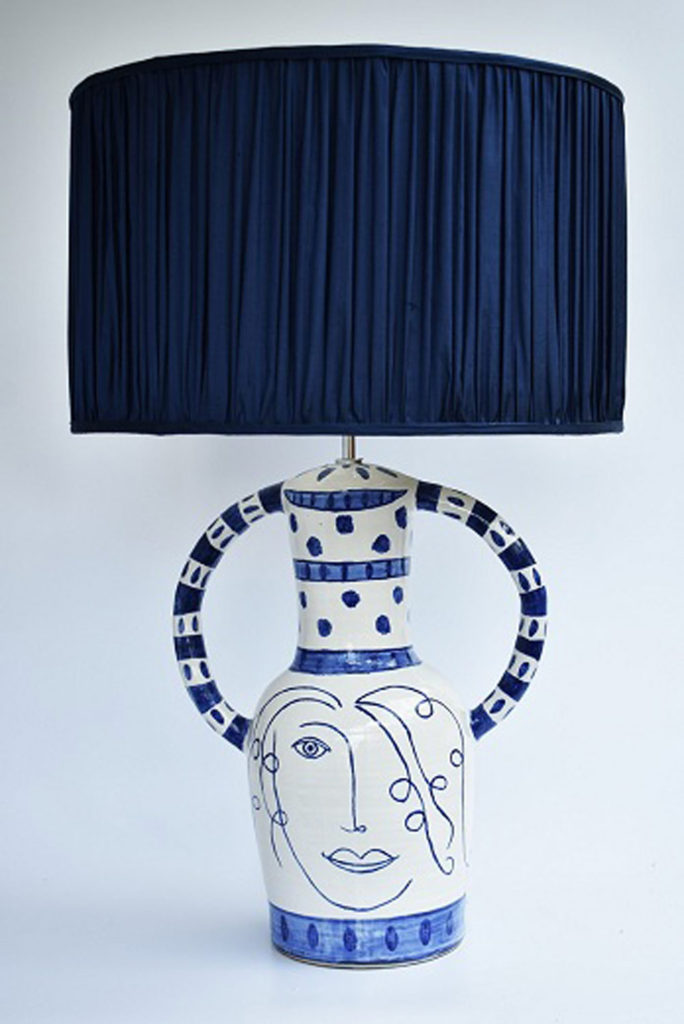 Lady Hilaire, the lady friend of the original Hilaire and a glamorous and enchanting femme fatal. The table lamp is the same dimensions as Hilaire so they can be used as a pair if you are looking for a knockout couple. Again, very fitting for a variety of interiors and colour schemes.
ST PIERRE TABLE LAMP
St Pierre, although is not ceramic, we have added it in to this collection because it has the same summertime, blue and white, seaside, sea breeze inspiration and many people use the Soho and St Pierre lamps together. This compact rock like table lamp beautifully reflects a genre of 20th century English stonemasonry. The sculpture indicatively represents the piscatorial form of the St Pierre fish and works well in a variety of settings.
BLUE AND WHITE WALL PLATES
There are 9 designs of the hand painted blue and white plates, charming, bewitching, handsome, glamorous, interesting and enchanting, providing a whole range of characters. The plates come in 3 different sizes, originally designed as wall plates as a piece of artwork for the wall, through popular demand they now also come in 2 smaller sizes as well, which can also be used on the table. If you tell us what you would like to use them for we can ensure they have plate hooks on the back if they are required.
Rosemary Wain, Kinkatou Studio London