We introduced the Trulli lamp a few years ago, after creating some more little gems we now have what we call the Puglia Collection. People are always admiring the beauty of the pieces and asking how they are made, so we thought we would share a little more with you and tell you about the whole collection.
Some of the Puglia Collection are in the Davidson showroom, Chelsea Harbour in time for Focus 19 together with some of our sculptural pieces, and will be there for some weeks, so do pop in to their showroom it is looking fabulous.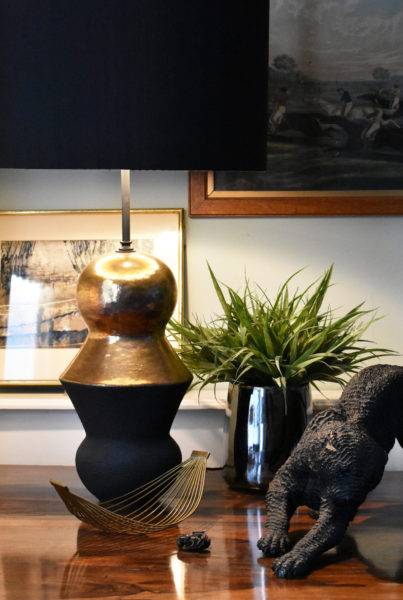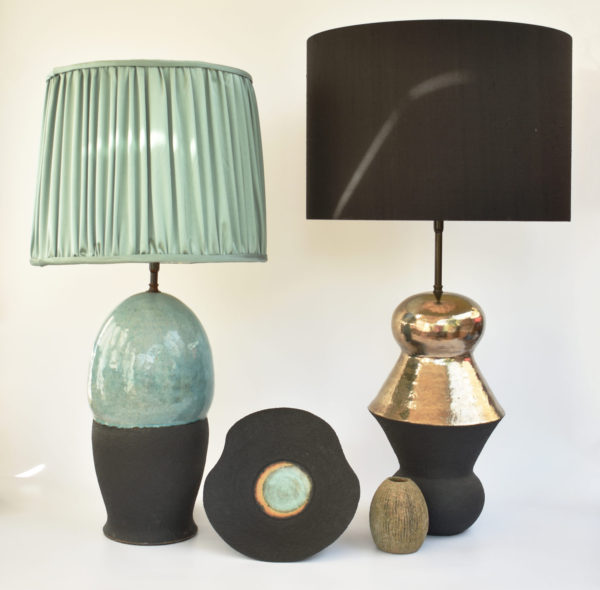 The Puglia Collection
The Puglia Collection is all about exhilarating contrasts and beautiful tactile qualities. Inspired by shadow and reflection, bright, smooth and beautiful with dark organic and exotic elements. They are all lustrous, interesting pieces, pleasing to the eye, architecturally and sculpturally formed.
Each composition is a piece of handmade studio pottery, no two pieces will be exactly the same, consequently the dimensions can be changed to suit your specifications. The glazes and textures may vary and this is all part of the beauty of the pieces.
There are several glazes; all the pieces can be finished in platinum, gold, white, turquoise or blue. The textured parts can be charcoal black or a beautiful buff coloured clay that has streaks of blues and hints of other tones.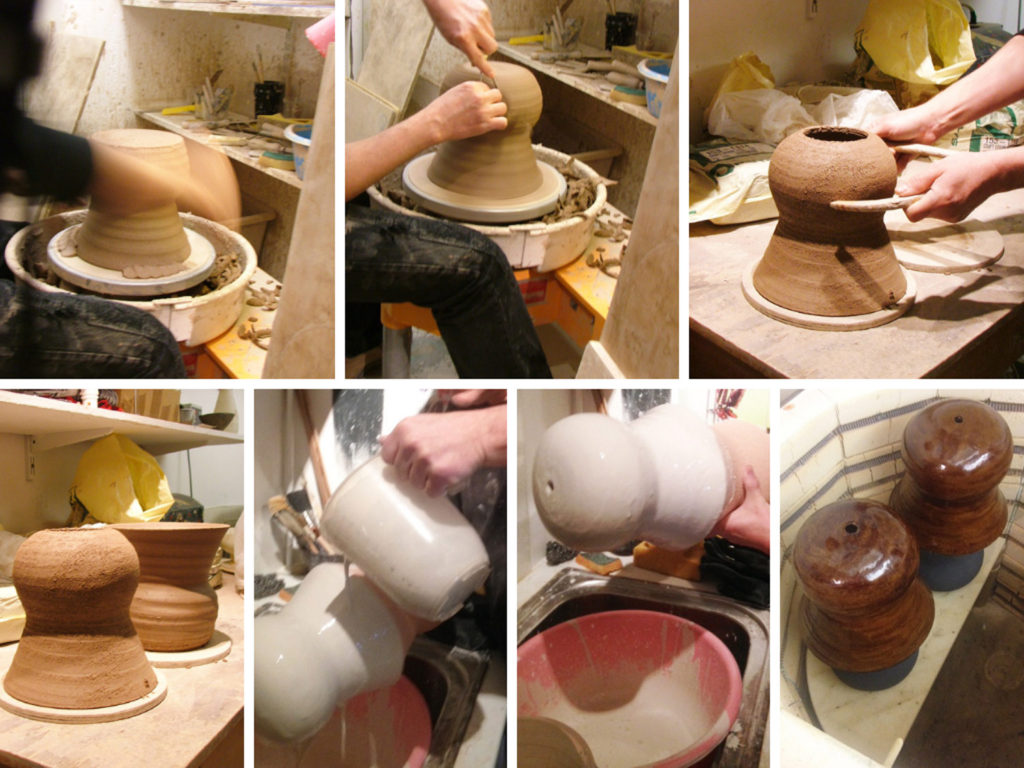 Classically crafted and thrown on the wheel, the pieces are then shaped, sculpted, trimmed, carved and sized. The pots are made in several pieces and built together, at this stage they are very fragile and are left to dry out before the first bisque firing. They have a 24 gold carat, pure platinum or coloured glaze poured over them, finally fired again at extremely high temperatures. On emerging from the kiln we can appreciate all the individual characteristics of the pieces.
TRULLI TABLE LAMP 24 CARAT GOLD AND BLACK HAND THROWN CERAMIC LAMP
This contemporary, individually, hand thrown ceramic table lamp , with its dark organic ceramic base and glorious 24 carat gold cupola, creates a balanced design which radiates luxury and generates a refined element to a wide variety of design oeuvres.
TRULLI TABLE LAMP PURE PLATINUM AND BLACK HAND THROWN CERAMIC LAMP.
Trulli also comes in a dazzling and radiant platinum finish, pure platinum, with the same beautifully textured charcoal coloured base.
CELESTIAL TABLE LAMP TURQUOISE GLAZED HAND THROWN TABLE LAMP WITH BLACK BASE
An elegant, individually hand crafted ceramic table lamp, Celestial is capped with a beautiful ethereal, glazed turquoise dome which creates a sense of duality with its dark matt noir base.
Volcanic bowls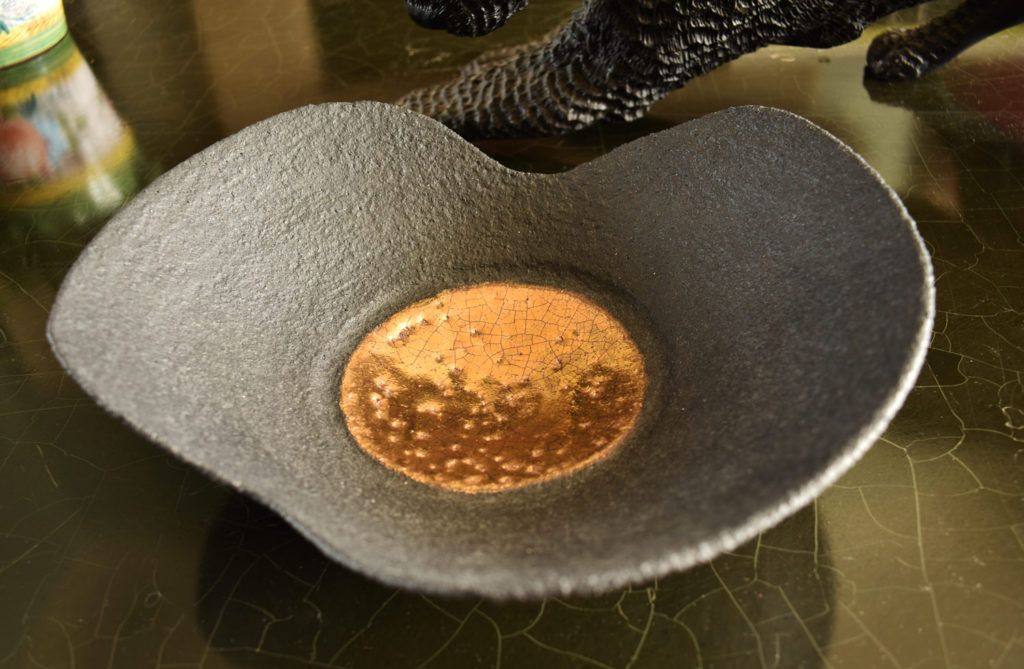 Inspired by our Trulli table lamp these bowls were designed originally to put on the wall as an installation. Multiple wall plaques, each individually hand crafted, encompass their 24carat gold centres with a volcanic matt black surround. The wide band of dark textured surround, creates a dynamic contrast to the subtlety reflective core. These wall hangings are as enticing whether used in multiple clusters or small groups. Each bowl is a different shape, no two are the same.
They look lovely as decorative accessories, and can be made to any size and in all colours of the collection.